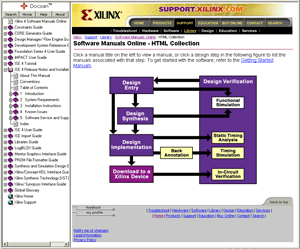 http://toolbox.xilinx.com/docsan/xilinx4/manuals.htm
The Client
Xilinx, the world's no. 1 supplier of digital programmable logic solutions, including integrated circuits, software and service, and the fifth largest overall supplier of custom logic chips.
The Challenge
To produce both CD and web-enabled versions of Xilinx semi-conductor parts manuals and engineering specifications for engineers designing with Xilinx products.
Key Xilinx requirements:
A single, turnkey solution for both CD-ROM and web products.
The ability to search for parts using key product characteristics in addition to full-text search.
Japanese language search capabilities.
The Solution
Doclinx built an end-to-end CD/web publishing system for Xilinx using its core Docsan® publishing and search technology.
The principle benefits to Xilinx:
A single publishing system with seamless support for both CD-ROM and the web.
CD-ROM and web delivery systems use the same Java applet for search and retrieval, providing identical user experiences for all customers and reducing support costs for Xilinx.
Doclinx' proprietary Parametric Search technology, which augments conventional full-text search by allowing customers to locate manuals by specifying product characteristics.
Built-in support for international character sets, ensuring that the system will continue to meet Xilinx' needs in its increasingly global marketplace.
The Results
For Xilinx, increased sales and reduced cost by providing efficient access to product information via CD-ROM and the web.