Surveillance & Intelligence Gathering for TV & Radio Broadcast News
Surveillance and intelligence gathering in the 21st century requires monitoring a multitude of news sources - News on Internet web sites, News in local and national newspapers and most importantly - News on satellite, television and radio news broadcasts.
News aired on the world's media networks is reliable, timely and offers the best coverage of events. A system that allows you to monitor television and radio news worldwide is critical to being well-informed.
To manually collect information on certain persons or topics of interest, you must tediously sift through hundreds of News broadcasts and Internet web-sites daily. This requires a large amount of effort and resources.
Doclinx's Global Media Monitoring System allows you to automate the process of intelligence gathering from News broadcasts and Internet web-sites. It uses advanced speech recognition and text-mining technologies in multiple languages to monitor and process TV, satellite and radio news broadcasts as well as Internet web-sites worldwide.
Our Global Media Monitoring System captures audio, video and textual inputs from a multitude of sources and performs speech recognition in real-time to yield an indexed repository containing thousands of digitized news recordings searchable by spoken words, speaker names or topics of discussion. On discovering a news story of interest, you can view the video directly from the point of interest and view a synchronized transcript of the broadcast.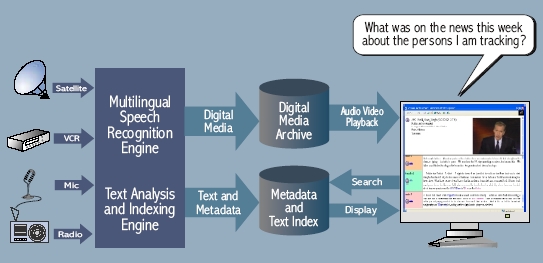 A real-time, speaker independent Speech Recognition module converts filtered speech into text. It employs acoustical models containing audio patterns of known words and statistical models that evaluate the likelihood of a word occurring in a particular position in relation to the words surrounding it.
This dual model approach yields very high recognition accuracy for natural speech - even with variations in background noise.
Non-speech elements such as background noise or music are filtered out and the resulting audio stream analyzed to detect speaker changes.
Known speakers are identified based their voice characteristics. New speakers may be added by introducing additional voice data of those speakers.
Proper names of persons, organizations and geographical locations are identified in the text created by the Speech Recognition module. Monetary, numeric, date and time expressions are also identified.
The episode being indexed is segmented into stories which are classified into one or more pre-defined topics. A wide variety of topics are included in the system and may be enhanced or modified.
Media input to the system is encoded into a compressed digital file suitable for streaming to end-users.
Text and metadata is stored in XML format and is fed to the XML indexing engine which creates a searchable archive. The text indexer performs parallel, incremental indexing and offers a very high degree of scalability.
A web based user-interface allows end-users to search by spoken words, speaker names, topics, channels or program names. Users can replay episodes from the precise point where specific words are mentioned and view a synchronized transcript of that segment.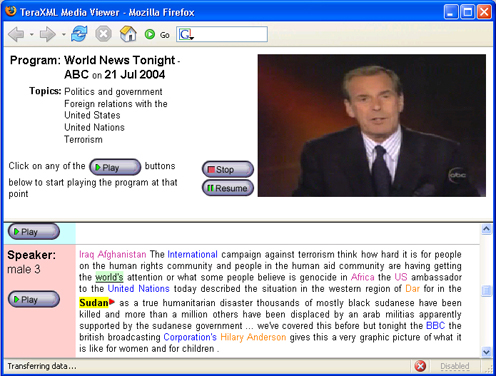 Sample screen showing episode playback with a synchronized transcript display
The Global Media Monitoring System allows you to automate the process of surveillance and intelligence gathering for broadcast news, which previously was done manually. This reduces costs substantially while increasing productivity.
Monitor news media in hundreds of channels in the English, Arabic, Spanish, French, German, Mandarin Chinese or Greek languages. Additional languages can be developed on request.
Speech recognition is performed in real-time such that the results are searchable as soon as the broadcast is complete.
Scale to concurrent monitoring of hundreds of channels and use by thousands of users. Our distributed architecture allows implementation of large clusters of speech indexers and search servers.
The web based user interface can be easily modified or customized.
Integrate with an notification system to send alerts when selected words are spoken in the broadcast.
Our system uses Java and XML technologies that enable quick, low cost integration with existing infrastructure.