A comprehensive solution for on-line sales of content based products
If you own content and want to generate revenue from online sales of your content, the Docsan® E-Commerce Server is the ideal solution. It enables you to offer your customers comprehensive web site where they can browse, search and purchase your content.
Based on the three-tier web application model, the Docsan® E-Commerce Server includes the powerful, highly scalable TeraXML Enterprise Search product that provides your customers with the option to search huge knowledge sets you that they can find and then purchase documents that are of most usefulness. Several features are included that offer your customers reasons to keep coming back to your web site for their information needs.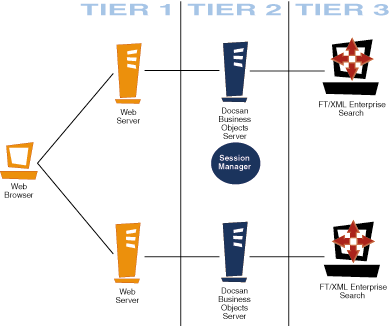 Complete Document E-Commerce Solution
Full-text search, parametric search and document browsing.
Shopping cart included.
Integrates with sales tax and credit card processing systems.
Integrates with existing corporate infrastructure and databases.
Features to Attract Users to Your Site

Users can organize interesting documents in personal folders.
Users can receive new or updated document notification by email.
Personalized user experience.
Banner advertising tailored to user's profile.
User registration and login module.
Configurable Business Models

Credit card "Pay-Per-View".
Subscriptions.
Deposit and debit accounts.
Purchase orders.
Highly Scalable Architecture

Powerful TeraXML Enterprise Search Engine allows users to perform complex searches on very large knowledge sets.
Session Manager allows addition of multiple e-commerce servers to handle large user loads and provides fail-over capability.
Load Balancer allows addition of multiple search servers to handle very large collections.