Fast, Easy, Concurrent Production of Websites and CDs with Live Updates Via the Internet
Docsan® CD-Publisher is a comprehensive solution for large-scale electronic publishing. It works with your existing documents in over 200 formats. It helps you organize and index your documents for delivery via CD, intranet servers or the Web. CD-Publisher also provides your users with powerful full-text and parametric search capability through the familiar interface of their favorite browser. And live updates ensure that they always see the latest content.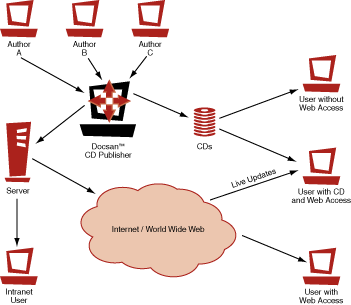 Key Benefits of Docsan® CD-Publisher
Slash printing costs with electronic publishing.
Users stay current with important information through live updates
Fast, easy, concurrent production of CDs, websites and live updates.
Any Java™ enabled browser views content — no client installation.
The Web architecture fully utlizes all browser features, such as security, XML and multimedia.
CD, server and Web delivery all integrate seamlessly.
Multi-lingual.
Key Features of Docsan® CD-Publisher
Integrates CD and Web technologies for a comprehensive, large-scale document publishing system.
Powerful full-text and parametric search engine with keyword highlighting.
Multibyte support for European and Asian languages.
Automatic live updates over the Web.
Same data can be used for CD and Web.
Platform-independent — runs in any Java™ enabled browser.
Fully customizable user views of your content.
200 supported document formats.